Ron Jaworski's Foundation, Jaws Youth Playbook, works to improve the overall health and wellness of at-risk youth, primarily in the Greater Philadelphia Region.  Each Thanksgiving season we go into a new community to help provide a Turkey Dinner with all the fixings for families in our own backyard.
Donate today to JAWS Turkey Drive presented by ACME Nourishing Neighbors Community Relief and help get more families in need this Thanksgiving. We all have something to be thankful for. With your support, you are helping power our mission by helping at-risk youth in our community all year long!
"Just want to say Thank you It's been a hard time for me and my family so this will help us as we struggle for everyday food to eat & thinking we wouldn't be enough money to buy Thanksgiving dinner So this makes a big difference. Again thank you to you & your team & the vendors that have donated. God Bless you all This Season."
"Thanks for the opportunity to be able to contribute to feeding my family this Thanksgiving"
Ron Jaworski's Foundation, Jaws Youth Playbook, partnered with Marc Vetri's Foundation, Vetri Community Partnership to host a Turkey Drive Block Party presented by ACME MARKETS!   Each family was able to receive a turkey, canned and fresh vegetables, fresh dinner rolls from Liscio's Bakery, a gift card from Acme Markets, and many smiles. Each family was then invited to enjoy the block party atmosphere with face painting, soccer drills, food demonstrations, and free books!  This fun-filled day helped fight food insecurity in the Spring Garden section of Philadelphia. Not only did we distribute food but Jaws and Marc were able to team up to have a cooking demonstration. Teaching families how to cook is just as important as giving them access to healthy, fresh food!    We thank everyone who supported this amazing event in the Spring Garden Section of Philadelphia. It was truly an amazing day with many laughs, hugs, and smiles.
Over the next year, Vetri Community Partnership hosts free hands-on, cooking classes for residents in the Community Teaching Kitchen. Ron Jaworski's Foundation, Jaws Youth Playbook, was able to donate $10,000 to support cooking classes to ensure the Spring Garden community learns how to cook nutritious and healthy meals for their families!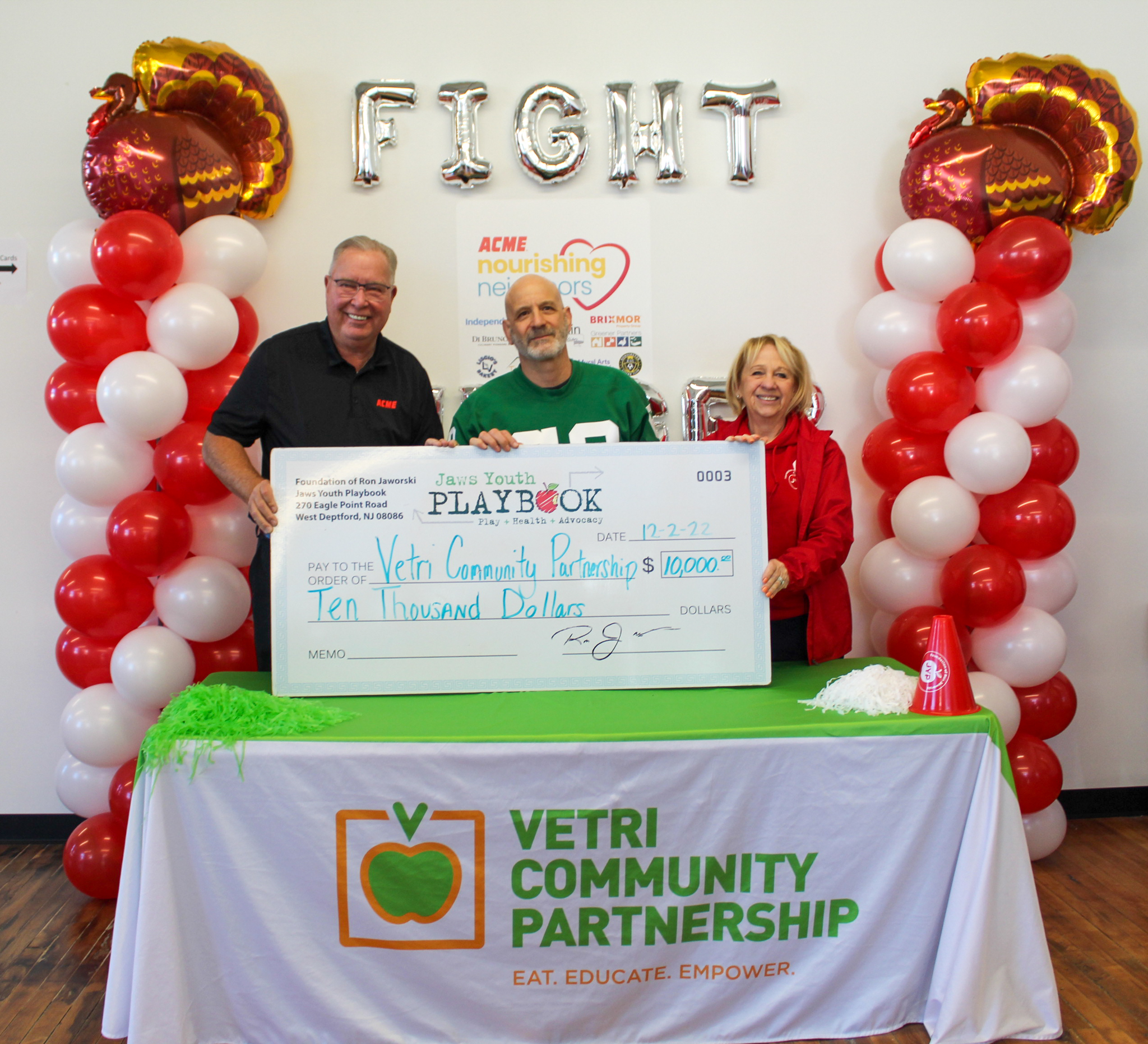 Ron Jaworski's Foundation, Jaws Youth Playbook, volunteered with the South Jersey Dream Center to help provide package turkey dinners for families in our backyard!
With the rise in food prices, we understand the need for access to affordable food, especially during the holidays. That's why JYP donated $5,000 to South Jersey Dream Center to help provide necessary meals to those in the South Jersey Community.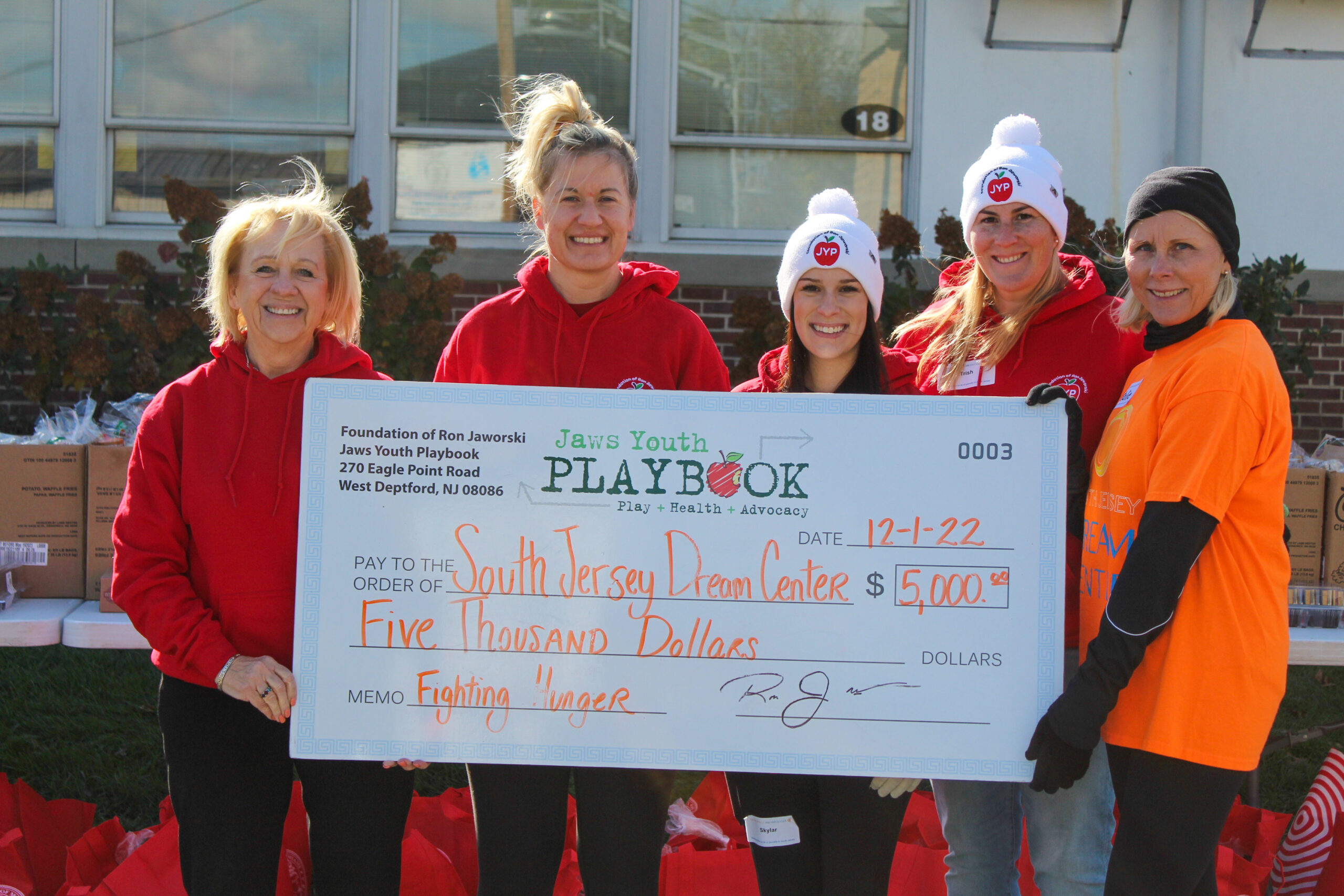 Thank You to our Sponsors!
Thank you for helping feed over 1,000 families this Thanksgiving!
 Jaws Youth Playbook  supported Total Turf Experience Foundation's Turkey and Trimmings event in Pitman, NJ by donating $2,000 towards their goal to help feed 1,000 families in Gloucester County this Thanksgiving. Ron Jaworski, Liz Jaworski and the entire Jaws Youth Playbook staff volunteered to help with packing and distributing meals.  Families were invited for a sitdown lunch OR they could pickup a meal to take home for their family for Thanksgiving.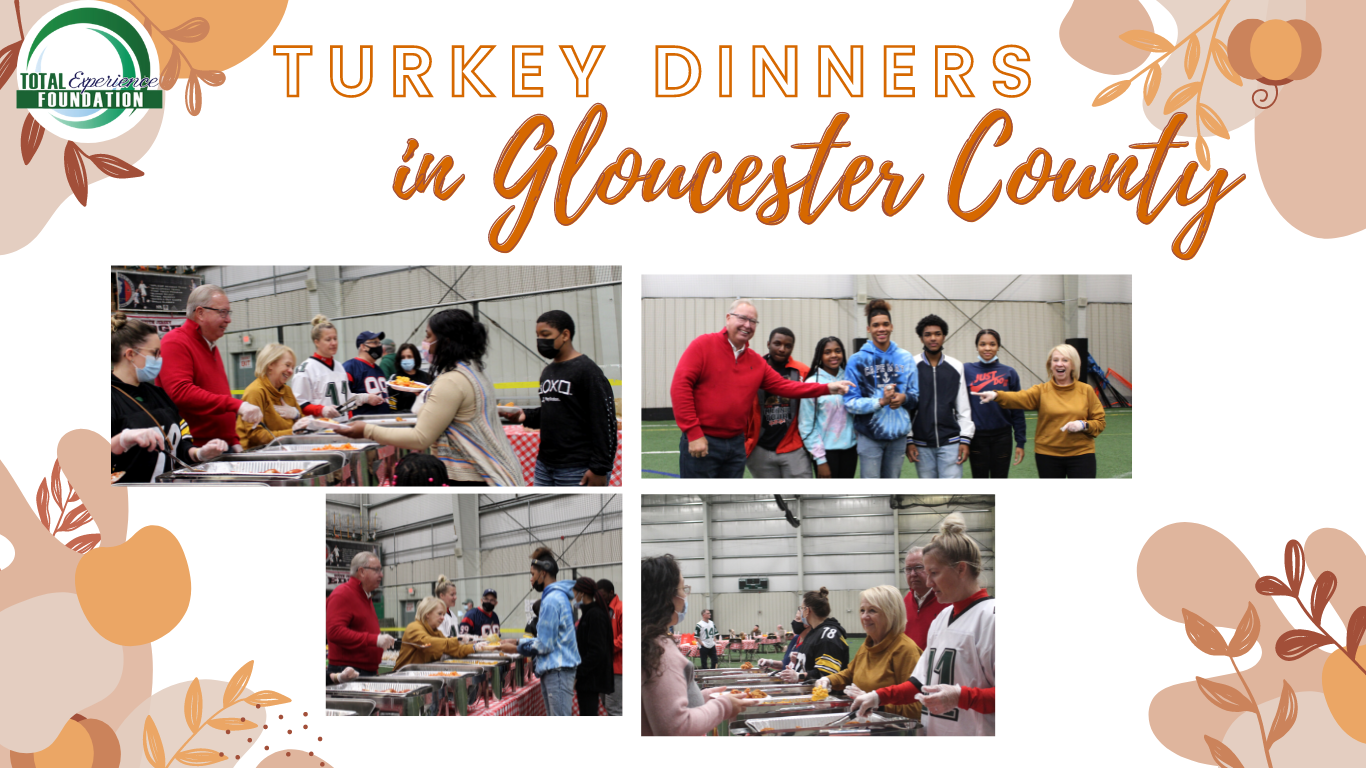 Ron Jaworski's Foundation was proud to volunteer at Community Center at Visitation's Monthly "Serve the Community" Dinner in November, which was a Turkey Theme for Thanksgiving!  Local residents enjoyed a sitdown dinnner in the gymnasium with hot servings of all the Turkey Fixings followed by several games of BINGO!  Jaws Youth Playbook also suprised the Community Center with a $2,500 towards the center's Turkey Dinners PLUS 20 boxes of toilet paper and paper towels for the center to use throughout the year! 
Community Center at Visitation is guided by the strength and resilience of our neighbors, provides a welcoming community space for Kensington residents to build meaningful connections and access resources to improve the quality of life in the neighborhood!