COVID-19 has left millions of families without stable employment. More than 42 million people, including 13 million children, may experience food insecurity — many of which can be our neighbors.  Ron Jaworski's Foundation, Jaws Youth Playbook, believes that no one should sit alone at the Thanksgiving Table. Each year, we visit a different communities to serve Turkey Dinner with all the fixings for families in our own backyard. 
Thank you for helping us feed 1,000 underserved families this Thanksgiving!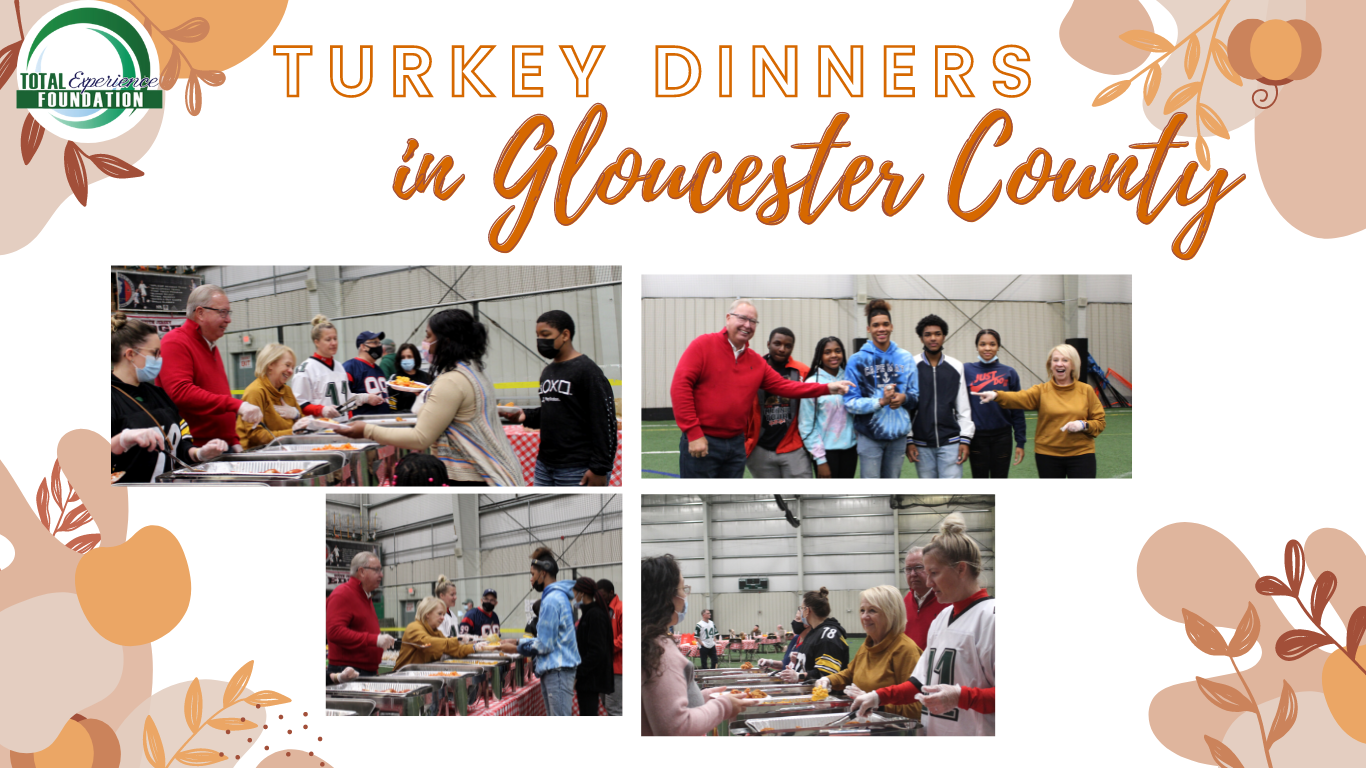 TURKEY & TRIMMINGS @ Total Turf in Gloucester County, NJ 
 Jaws Youth Playbook  supported Total Turf Experience Foundation's Turkey and Trimmings event in Pitman, NJ by donating $2,000 towards their goal to help feed 1,000 families in Gloucester County this Thanksgiving. Ron Jaworski, Liz Jaworski and the entire Jaws Youth Playbook staff volunteered to help with packing and distributing meals.  Families were invited for a sitdown lunch OR they could pickup a meal to take home for their family for Thanksgiving.  
Community Center @ Visitation in Philadelphia
Ron Jaworski's Foundation was proud to volunteer at Community Center at Visitation's Monthly "Serve the Community" Dinner in November, which was a Turkey Theme for Thanksgiving!  Local residents enjoyed a sitdown dinnner in the gymnasium with hot servings of all the Turkey Fixings followed by several games of BINGO!  Jaws Youth Playbook also suprised the Community Center with a $2,500 towards the center's Turkey Dinners PLUS 20 boxes of toilet paper and paper towels for the center to use throughout the year! 
Community Center at Visitation is guided by the strength and resilience of our neighbors, provides a welcoming community space for Kensington residents to build meaningful connections and access resources to improve the quality of life in the neighborhood! 
North Camden Community Development – Camden, NJ
Jaws Youth Playbook suprised CLHI North Camden with Thanksgiving meals to take home to their families. Each package was filled with a turkey, dinner rolls, pumpkin pie, stuffing, mashed potatoes, and a variety of vegetables to enjoy for Thanksgiving.
We all have something to be thankful for!