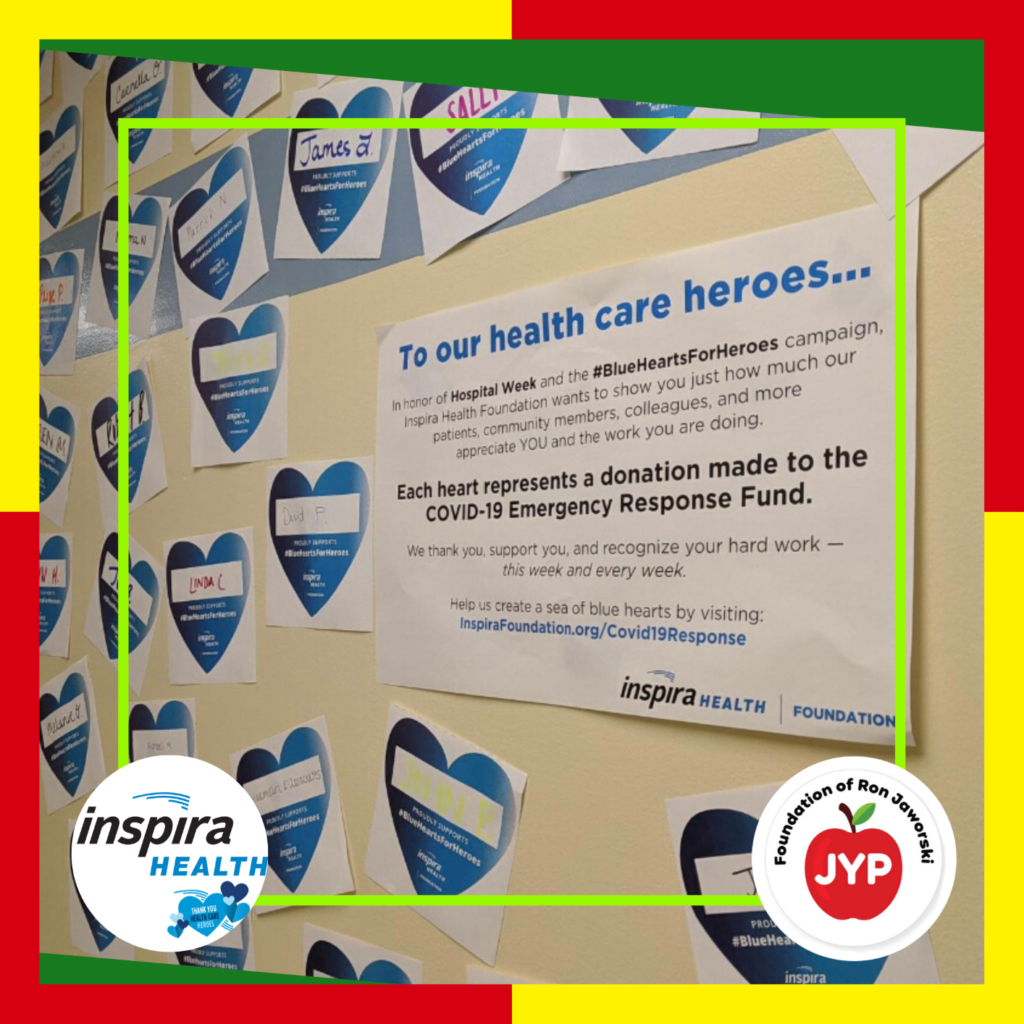 Inspira Health Foundation COVID-19 Assistance
Ron Jaworski and Jaws Youth Playbook made a $10,000 contribution to Inspira Health Hospitals. With this contribution to their goal, Inspira has added 500 additional beds, secure vital Personal Protection Equipment (PPE) and construction of temporary tent facilities at their 3 hospitals to handle the overflow of patients. Thank you to our front line workers!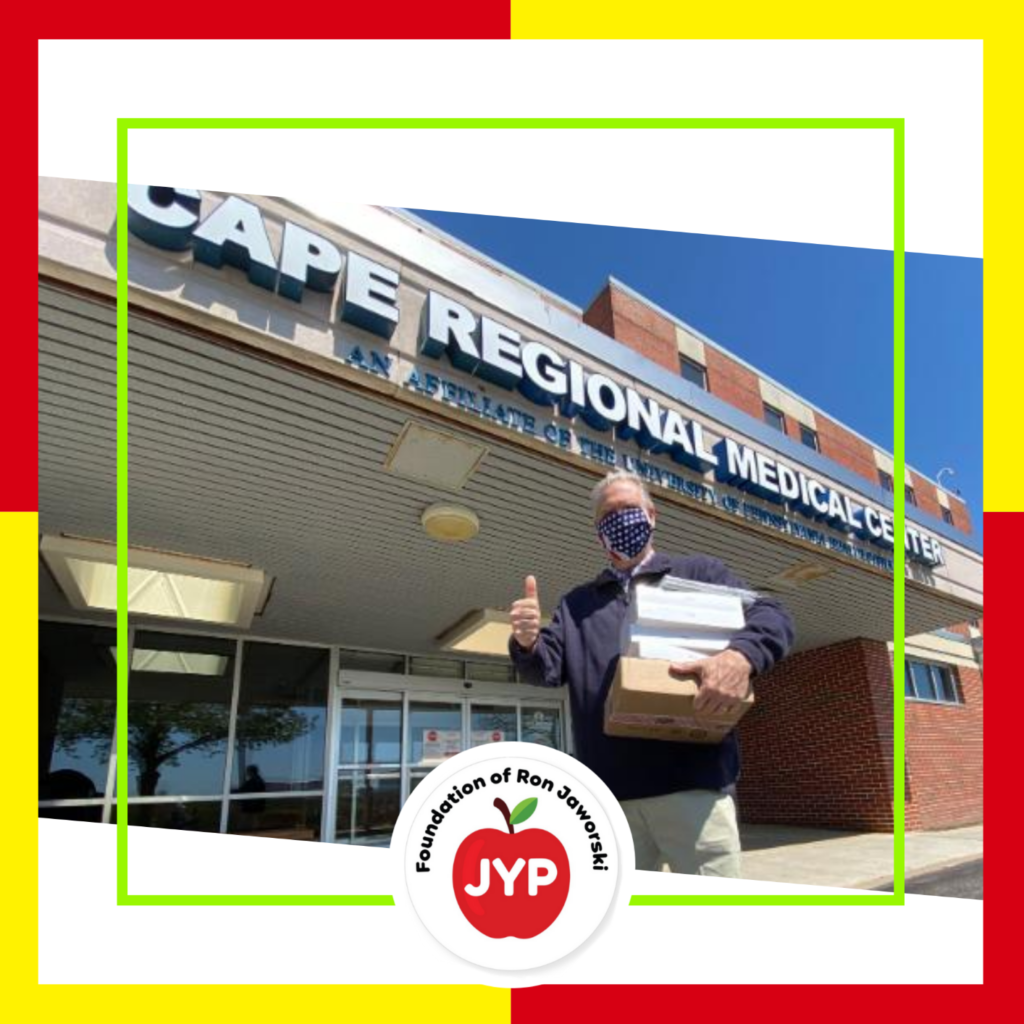 Cape Regional Medical Center
iPads for Patients
When Ron & Liz Jaworski heard about long-time JYP supporter, John Lynch, and his efforts to secure iPads for patients at Cape Regional Medical Center, they wanted to help.  JYP purchased iPads for patients to communicate with their loved ones during these unusual circumstances of COVID-19 while visitations are not permitted.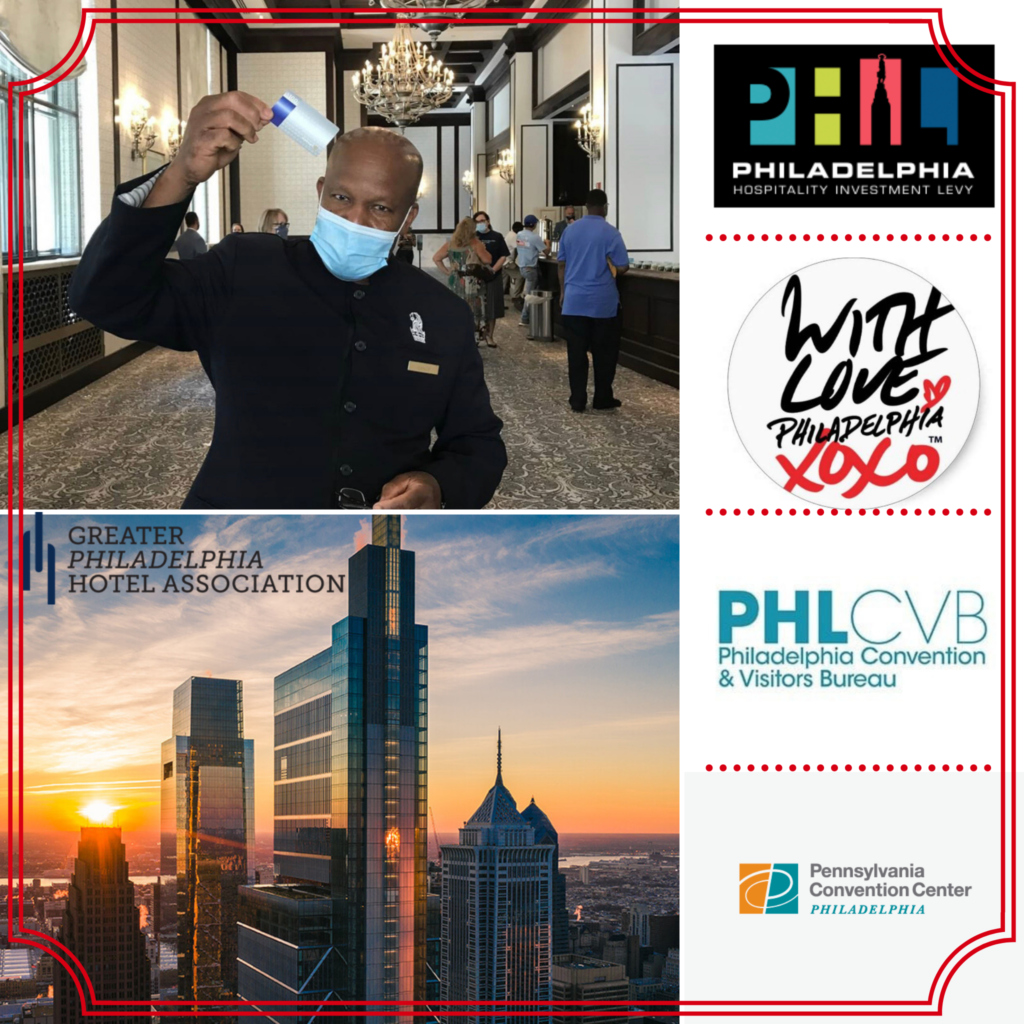 Greater Philadelphia Hotel Association
Grocery Gift Cards
Jaws Youth Playbook donated $2,500 towards grocery store gift cards that Greater Philadelphia Hotel is purchasing for hotel workers who have lost their jobs during COVID-19. Jaws Youth Playbook partnered with Philadelphia Convention and Visitors Bureau, PA Convention, the Philadelphia Hospitality Investment Levy and VisitPhilly to make this all possible.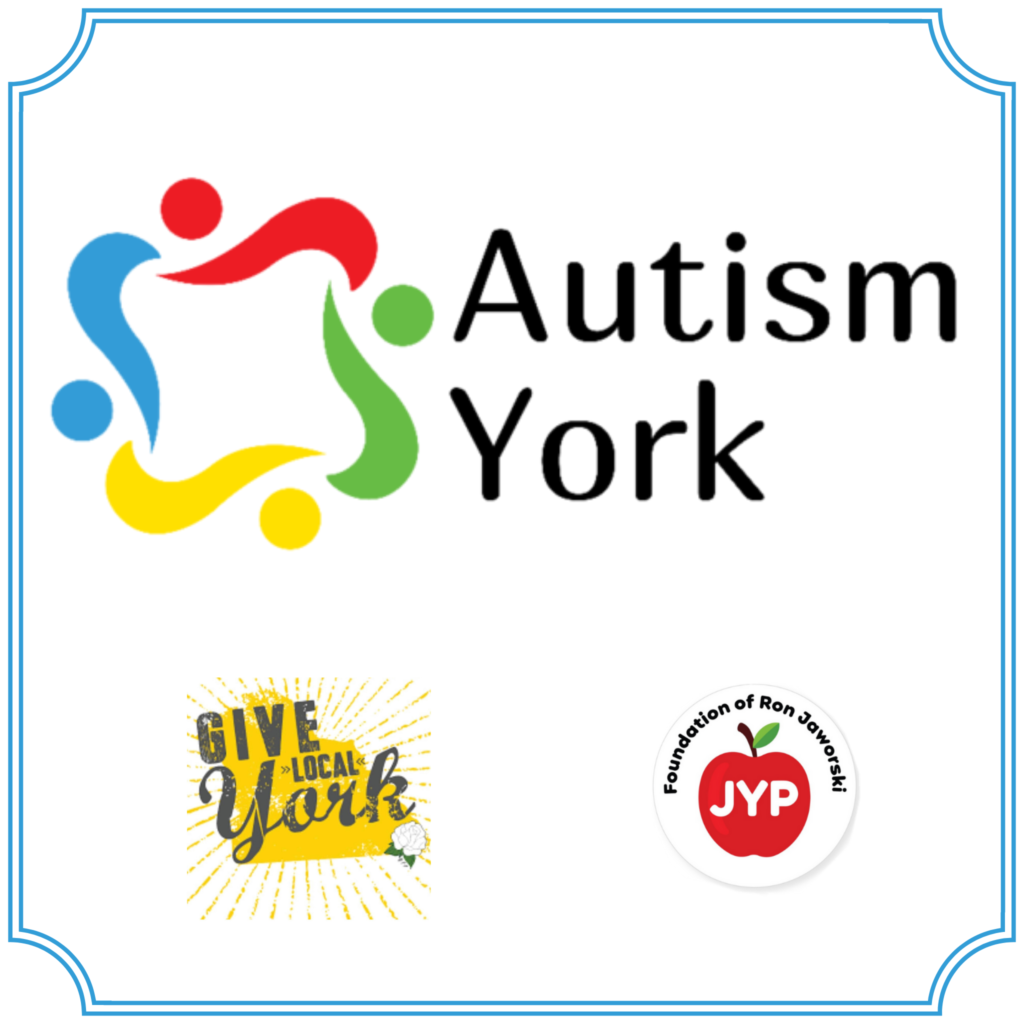 Autism York
"Give Local York" Campaign
Ron Jaworski and Jaws Youth Playbook proudly donated $1,500 to Autism York in support of their "Give Local York" event. The funds raised through this 24-hour donation extravaganza make it possible for Autism York to continue supporting local families living with ASD through their various support groups, programs and family activities.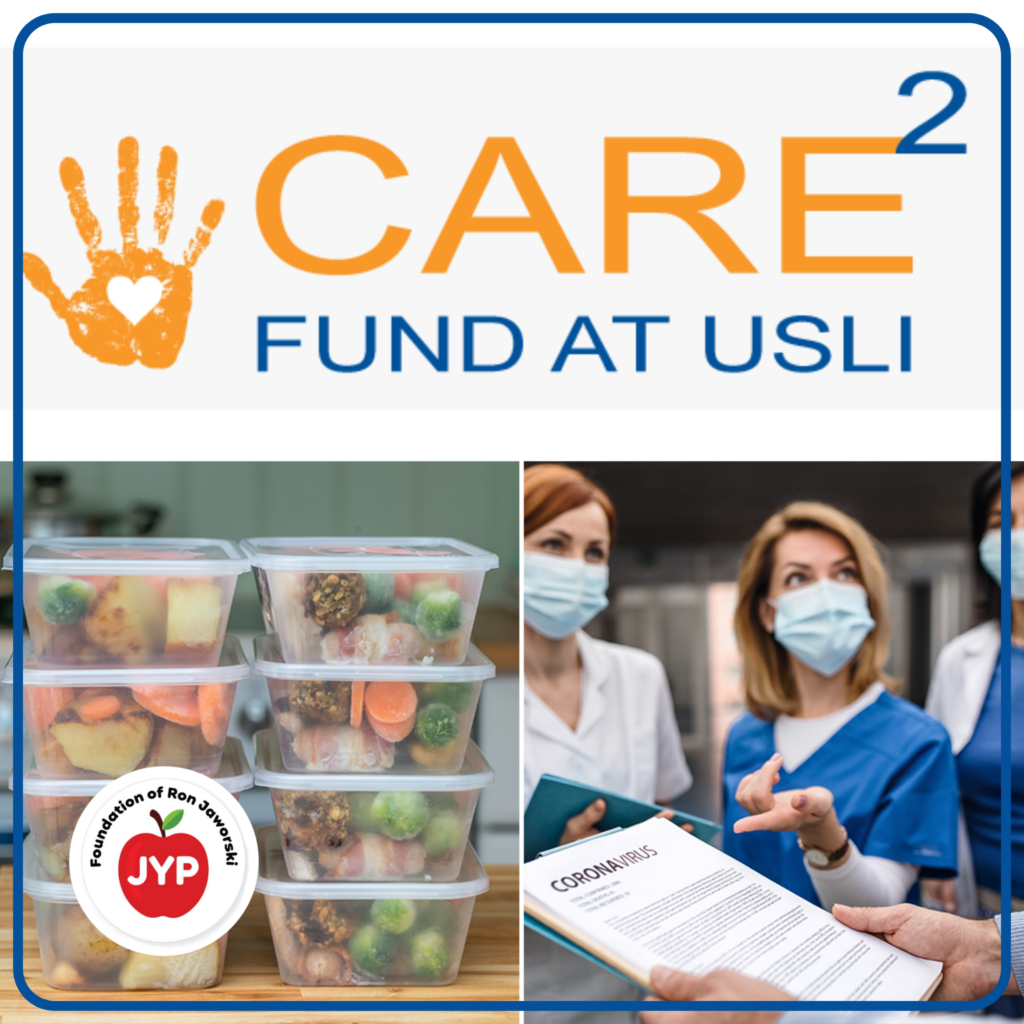 Care2 Fund @ USLI
Meals for Frontline Healthcare Workers
Jaws Youth Playbook proudly donated $2,500 to Care2 Fund at USLI and 12th Street Catering who are partnering together to provide meals for frontline health care workers employed at Philadelphia-based hospitals. Together, we are working to help those in need.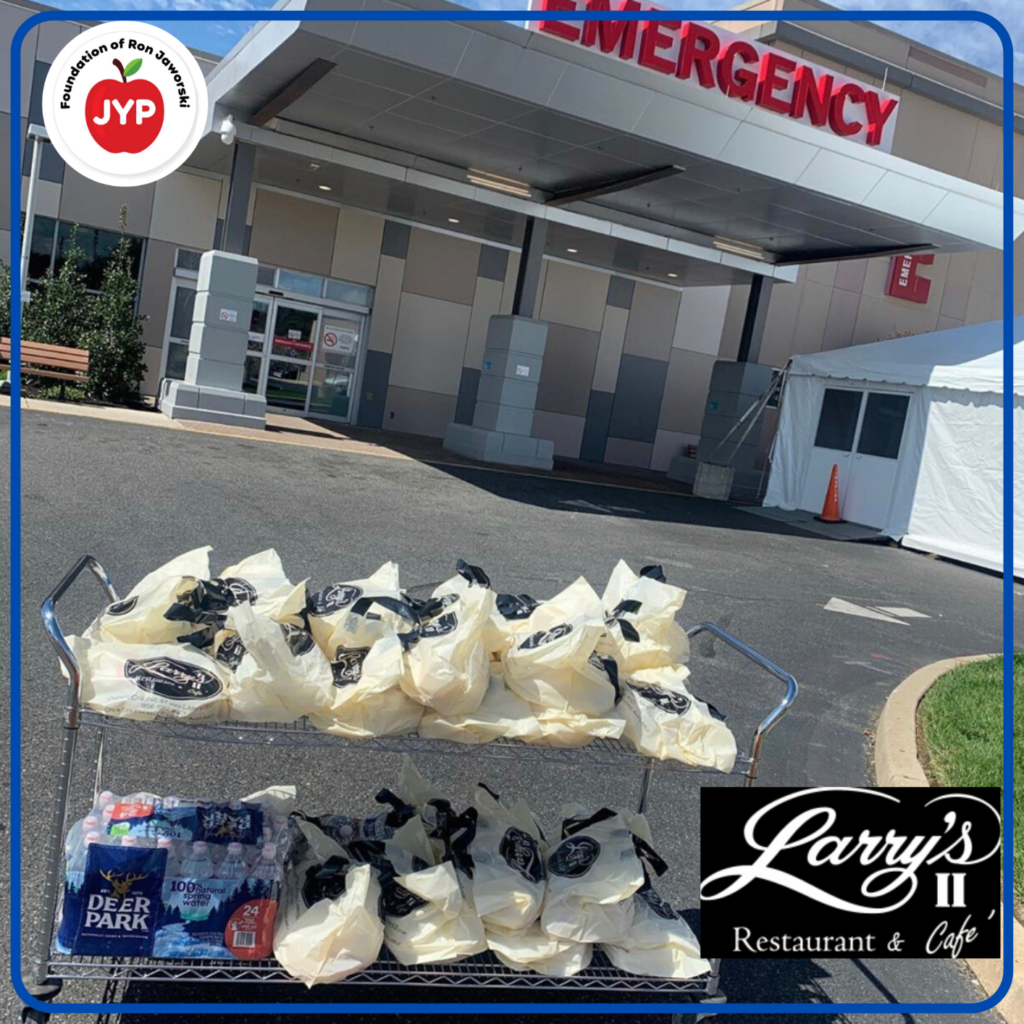 Larry's II Restaurant
Meals for Frontline Workers
Jaws Youth Playbook is proud to donate to thank those who are working on the front lines during the COVID-19 pandemic. Through Larry's ll restaurant in Vineland, NJ, we are donating $2,500 to deliver lunch and dinner packages to healthcare workers and families in need.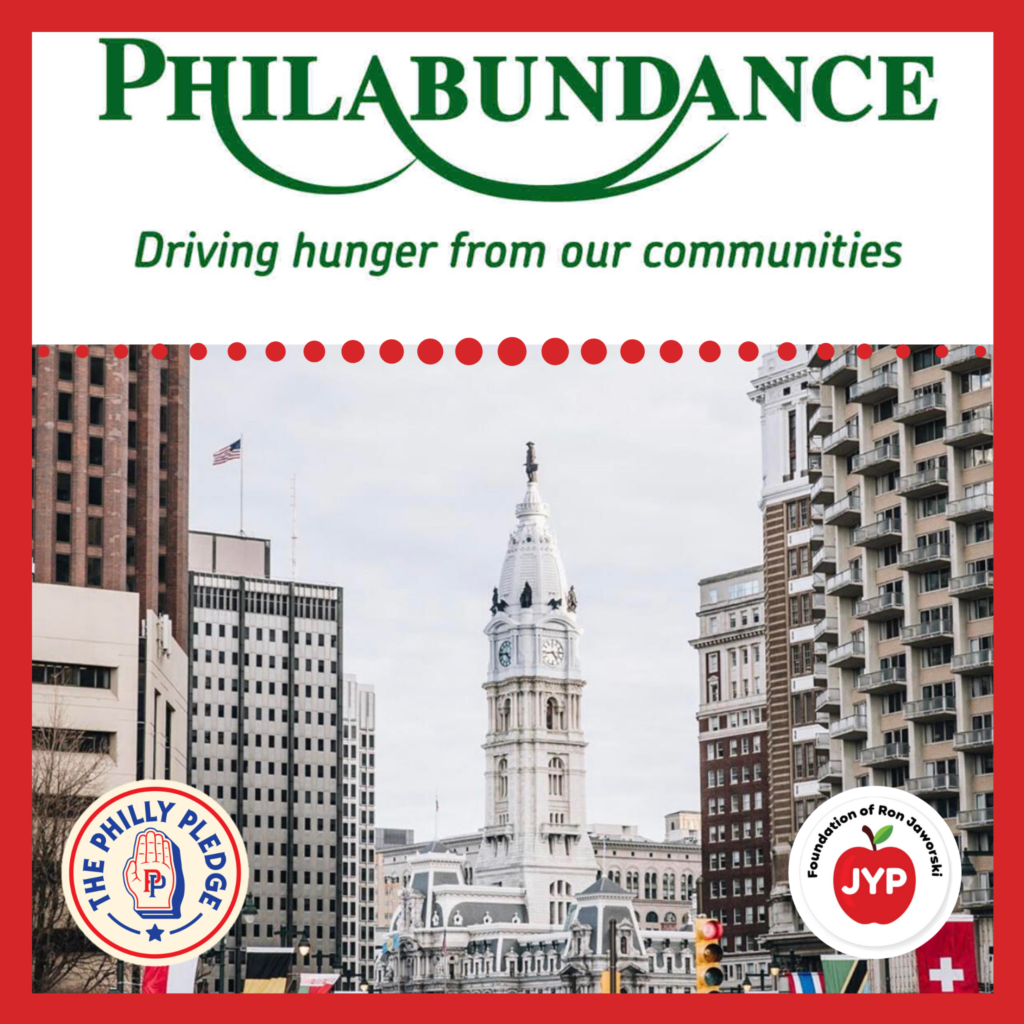 Philly Pledge to Philabundance
Jaws Youth Playbook joined the efforts started by 76ers Ben Simmons and participated in the Philly Pledge to aid in COVID-19 relief.  JYP donated $2,500 to support Philabundance. Philabundance is rescuing and distributing food to help feed 90,000 people each week — 1 in 5 Philly residents faces food insecurity.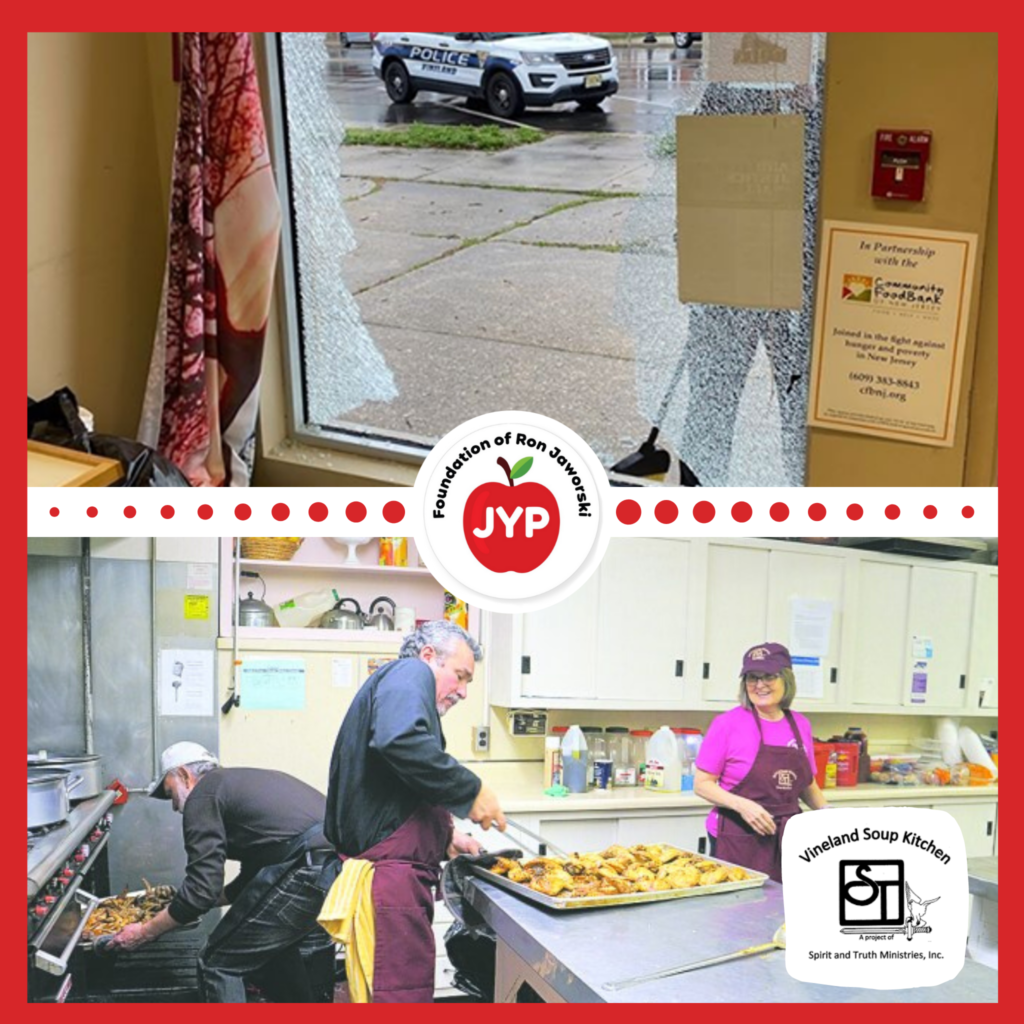 Vineland Soup Kitchen Vandalism
The Vineland Soup Kitchen was vandalized when a rock-hurling vandal shattered their front windows in March.  JYP donated $2,500 for repairs to the damages, and for resources and supplies during the COVID-19 pandemic. The Vineland Soup Kitchen is operated by Spirit Ministries as they continue to provide for the hungry.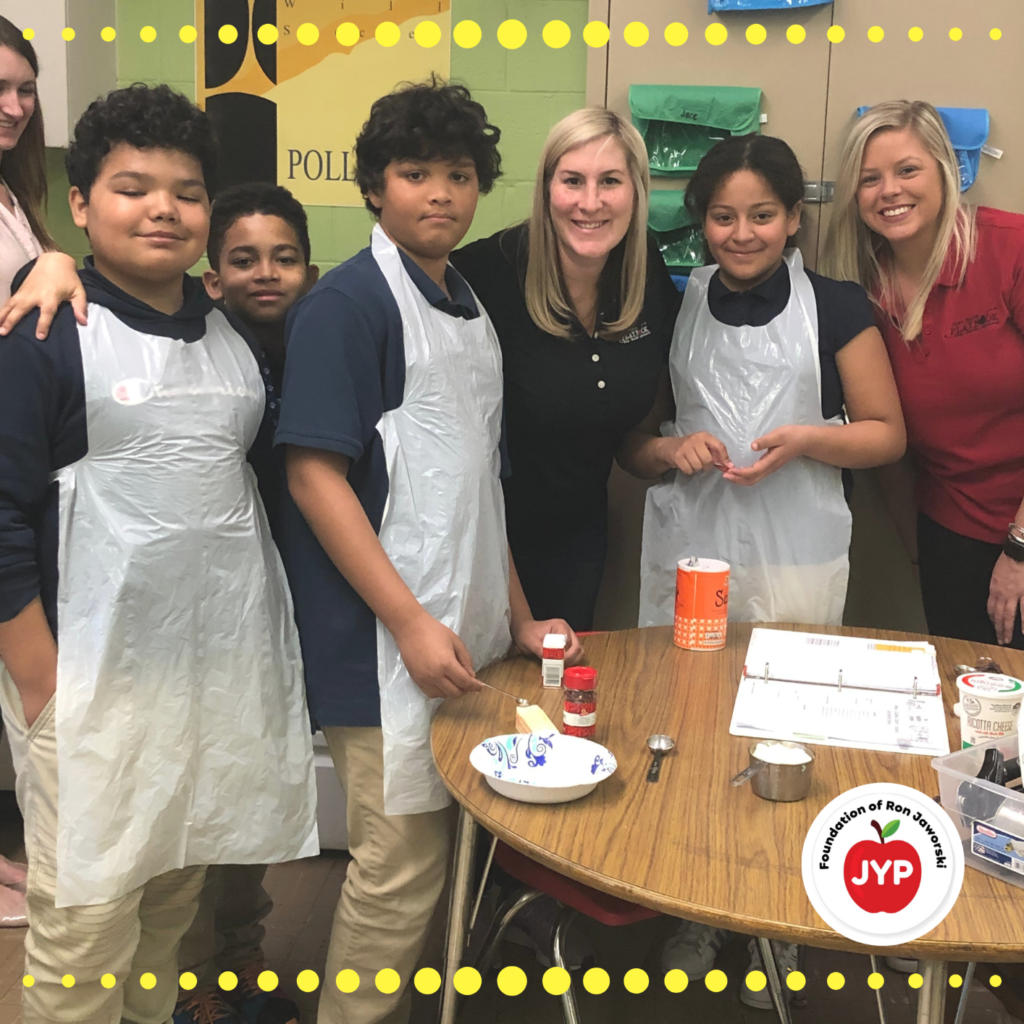 My Daughter's Kitchen
Healthy, Easy Meals on a Budget
Jaws Youth Playbook stopped by the Pollock Elementary School in Philadelphia, PA for $1,000 donation that will cover the 2020 Spring & Fall semesters of My Daughters Kitchen after-school cooking program. My Daughters Kitchen has worked for over the past five years to provide more than 2,000 urban school children with the opportunity to learn how to make hundreds of easy, healthy and inexpensive recipes!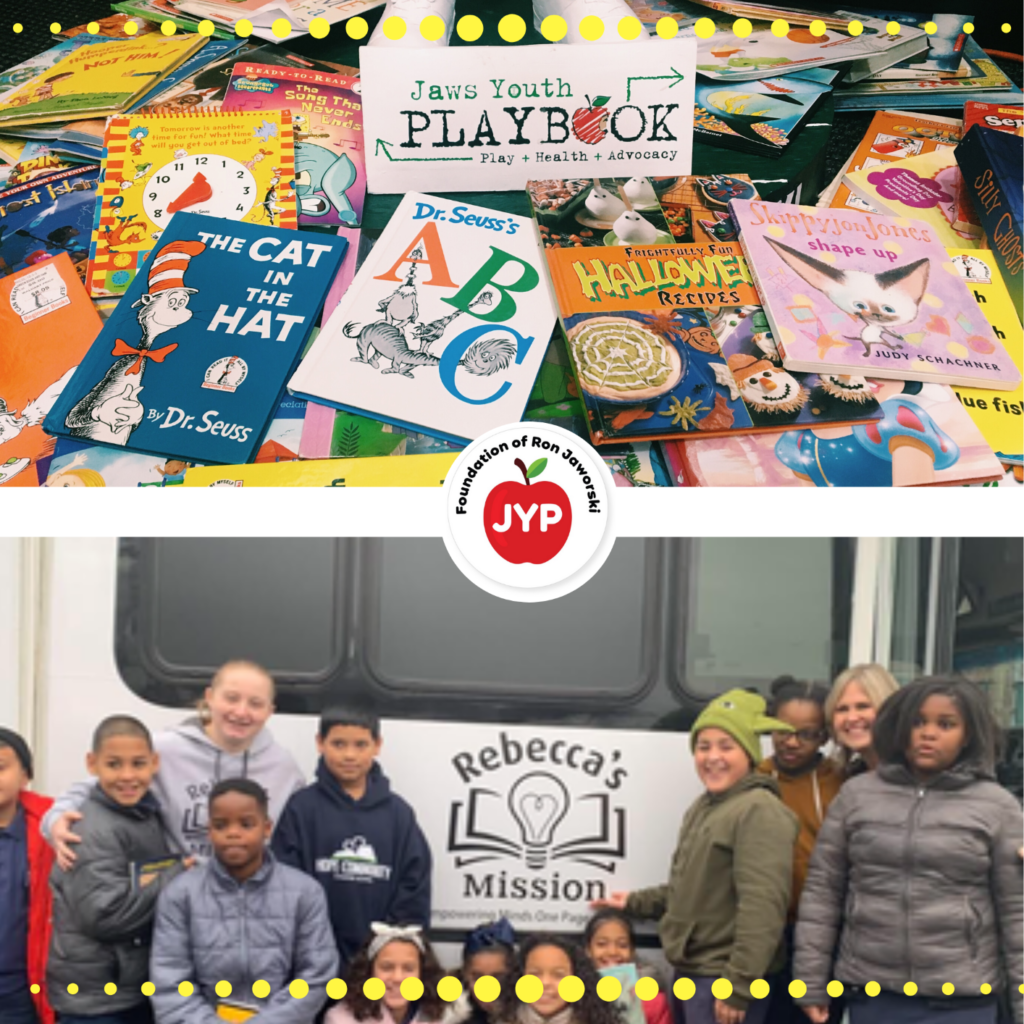 Book Drive with Rebecca's Mission
Book Mobile
JYP collected gently-used and new children's  as part of READ ACROSS AMERICA.  All books were donated to Rebecca's Mission, a foundation that is dedicated to providing knowledge and opportunity to underpriviledged communities through offering access to their Book Mobile.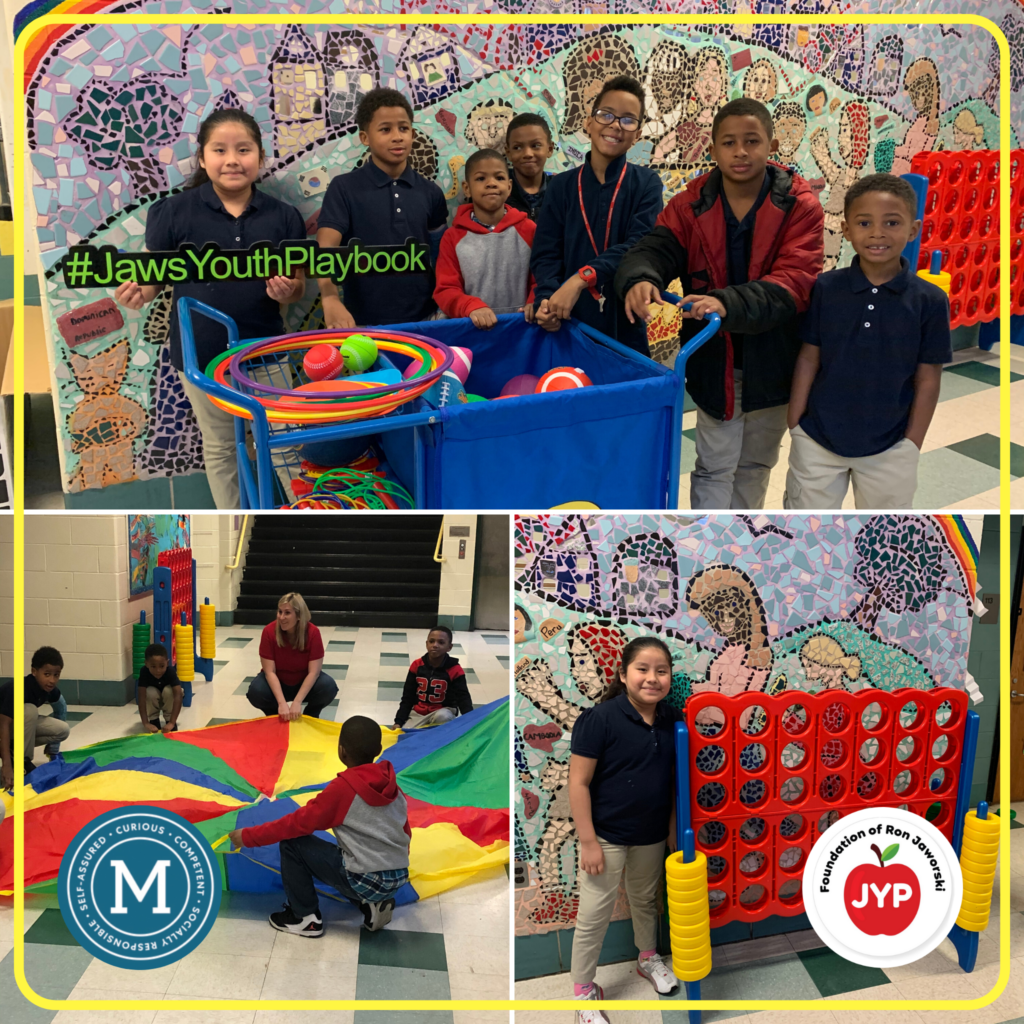 Morrison Elementary
Recess Equipment Donation
JYP visited Morrison Elementary School in the Olney Section of Philadelphia and dropped off some much needed recess equipment.  Students warmed up in a group activity with their new parachute, learned how to play life-sized Connect Four, and tested out their new hoola hoops, jump ropes, kickballs and footballs.  By providing equipment and structure to student play, they come back to class more calm, academically engaged, and seem more ready and willing to learn.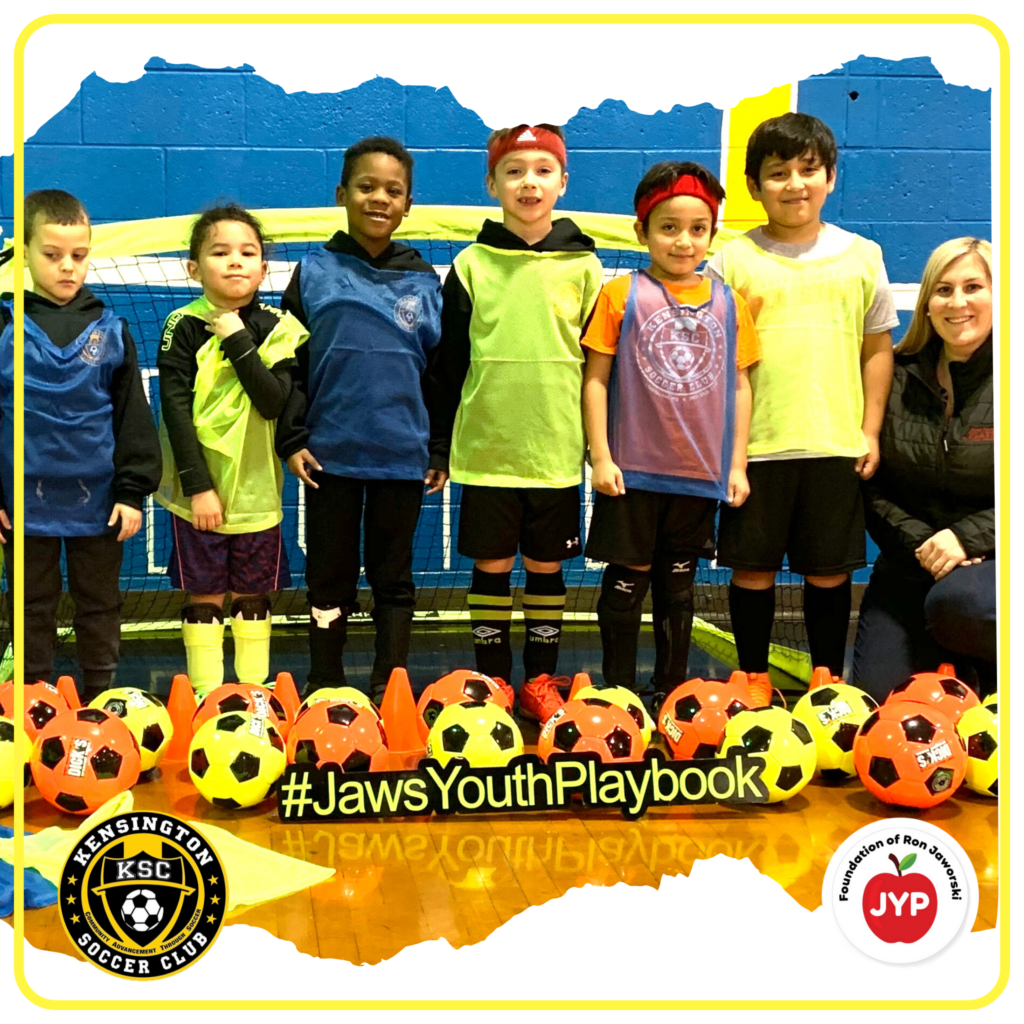 Kensington Soccer Club
Equipment Donation
Jaws Youth Playbook donated soccer balls from Dicks Sporting Goods, sports pinnies, cones, soccer nets and a large water jug to the Kensington Soccer Club. They are a Philadelphia soccer program that provides opportunities for the youth to be a part of the athletic programs regardless of their environment.